The name of Thatcham has long been thought to come from a Saxon Chief called Tace who set-up his village, ham, here. Thus creating Tace's Ham which over the centuries became Thatcham. But is this the case?
Similar place-names
Before delving into Thatcham, or researching any specific name I typically look to see if there are any other places with the same or similar names, either now or in the past. So with Thatcham we find that there are three similarly named places. They are:
Tace-ham in Sussex now Thakeham;
Tace-brok in Warwickshire now Bishop's Tachbrook; and
Tace-berie in Hampshire Tatchbury.
Thakeham, according to their local council, was first mentioned in 1073 as Tacaham which they suggest might mean thatched homestead. However it is noted in Domesday in 1086 with a church and mill. So it does therefore pre-date the Normans. It does have a church, dating to the 1830s, called St Mary's. Bishop's Tachbrook appears in Domesday as Tacebrok with 2 mills but no church. Similarly Tatchbury appears in Domesday as Taceberie but with no mill or church.
I have not found too much out on the latter two but he first, Thakeham, at first glance appears very similar to Thatcham. I did hope it might help, however there seems to be a similar assumption to that of Thatcham, that the name refers to a Saxon Chief. This may well be correct, I have not looked at their history in too much detail.
What are the origins of the name Thatcham?
Most local history books will tell you that Thatcham obtained its name from a Saxon Chief called Tace who set-up his village, ham, here. Thus creating Tace's Ham which over the centuries became Thatcham. There is also another local myth that when the people were stood thinking how to roof their buildings a figure suddenly appeared, horned and with a tail, and shouted "Thatch-em." Fanciful this might be it leads to the second thing people say, Thatcham got its name because the buildings were thatched. During the Saxon period most buildings in the country would have been thatched.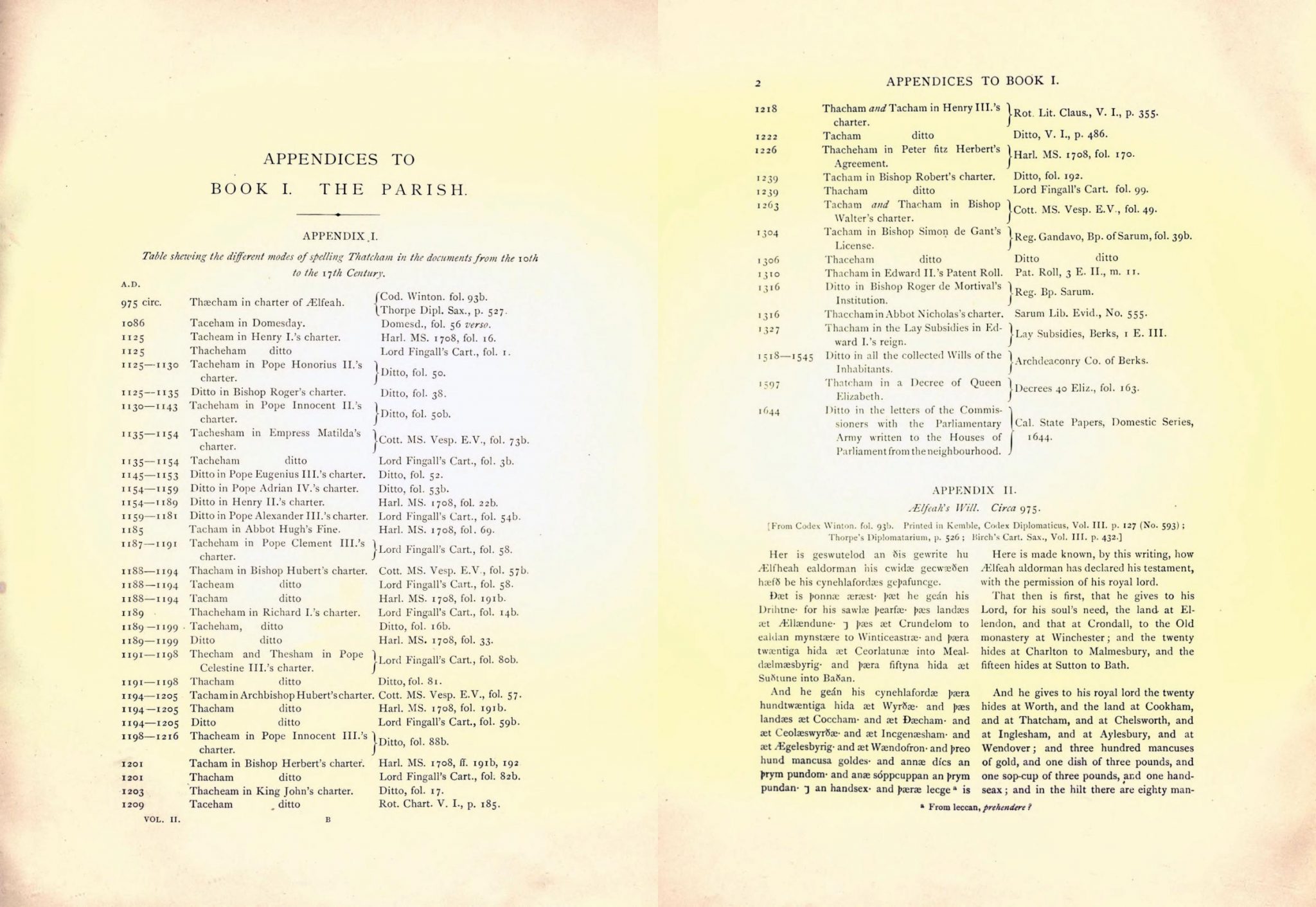 So let's look at the written record. Barfield1 collated all the written names of Thatcham, and yes this can be added to with the finds from the last one hundred years and yes a few of them I have checked. One of the earliest known written records is the will of Ælfeah (Alfeah) from c.975AD. It is written as Thæcham. Breaking this down Thæc is a Saxon word meaning roof-covering, i.e. thatch. Some have suggested it was the name of the Saxon chief, I think they have read the original story above and put Thæc in place of Tace. There has also been the suggestion that it was hamm rather than ham. There is a subtle difference and if we look at known examples it will give you a better understanding.
Birmingham was and still does use "ham" and refers to a hamlet or village. Southampton though was originally a "hamm" and meant river meadow. Looking at many of the place-name studies such as Gelling and Cole2 and Higham & Ryan3 also provides an insight. Higham & Ryan3 suggest many Saxon place names refer to topographical features in certain areas, that is things in the landscape, rather than individuals. Looking at other locations nearby4, 5 Crocheham (hamlet or homestead by the river bend), Midgham (riverside meadow infested with midges) and Greenham (Green River Meadow) supports this theory.
If this is correct then there is the possibility that Thæcham might mean roof-covering material in a river meadow rather than the hamlet of a Saxon chief.
Summary
So where did the name come from? At present no one can say with 100% certainty. It might be a Saxon chief and that has been shown in other settlements or it might be the river meadow with thatching material. My belief based on the names of other nearby settlements is the latter.
What we can say with certainty is that the modern spelling has been in place since sometime between 1545 and 1597.
References
1Barfield, S. Thatcham, Berks, and its Manors, Oxford: Parker, 1901
2Gelling, M. & Cole, A., The Landscape of Place-names,
3Higham, N., & Ryan, M., Place-names, Language and the Anglo-Saxon Landscape, Boydell Press, 2011
4Mills, D., A Dictionary of British Place-Names, Oxford University Press, 2011
5Heritage Gateway