During my Thatcham history research a number of years ago for some articles/publications I was looking at the Whipping Post, Stocks and Cage in Thatcham. This is a brief piece on that research.
Starting with the village lockup, which was known as the Cage, we have a poor woman named Elizabeth Smith who had been imprisoned in the Cage, was buried on 24th February 1609[1]. This is the earliest mention I have for the cage and dates it to at least 1609 but is probably much earlier. Its location remains unknown but it would appear that at least part of it was timber if not all.
There is mention in Barfield[2] of the cucking stool in 1657 and stocks being made in 1652. Yes it was mentioned as a cucking stool and not a ducking stool. It may be new stocks were made to replace older ones but that is just a thought and I have no evidence to support that.
In 1691 it was ordered that the stocks and whipping post be placed at Ham Mill Bridge[2] and it is also implies that there was more than one set of stocks, however I am yet to confirm this. At that time Thatcham covered a much wider area with the boundary extended up to and including the Swan on the London Road as shown on the map below.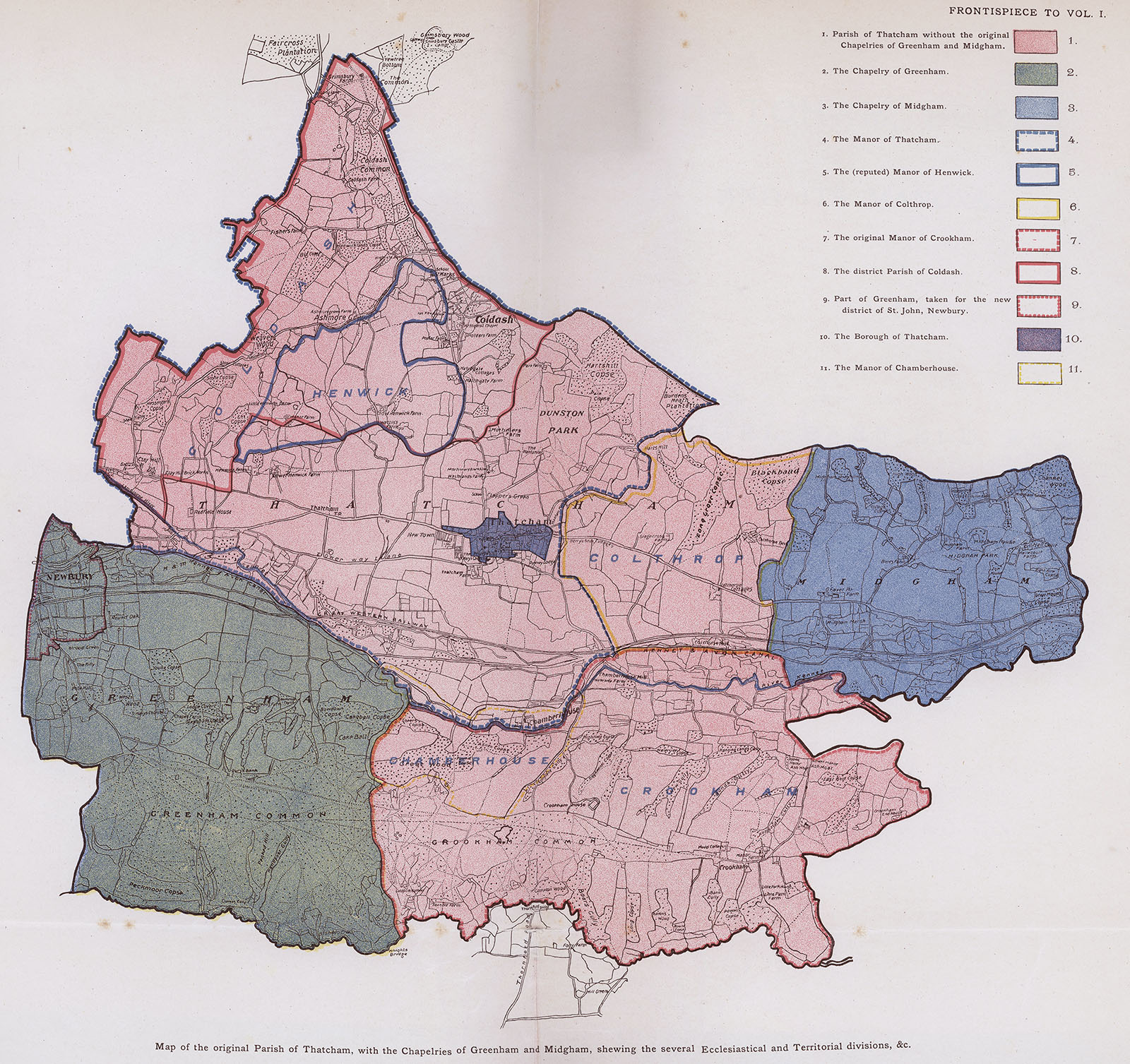 By c.1844 there was a set of stocks in Chapel Street somewhere near Turnfield. The stocks had one post higher than the other, the taller end acted as the whipping post. The stocks were then moved to be near the Buttercross in the Broadway (then know as Broad Street). In Browns[3] book he notes a local, Mr Padbury, who recalls the stocks being in Chapel Street and said the set of stocks had been made and erected by Daniel Wheeler of Chapel Street. Mr Padbury also said he could recall three people placed in the stocks, Fuller, Turner & "Barkshire" Blake (yes that is how it was spelt).
I am unsure when the stocks were moved, however the earliest photograph I have of Thatcham Broadway is dated to 1865/6 and they show the stocks.
Berkshire Blake
Thomas Blake was born c.1802 in Thatcham, he had at least one sibling, a George Blake born in 1812. It would seem both got up to no good but Thomas more so. In 1838 the Reading Mercury[4] notes Thomas Blake at trial for assaulting the constable of Thatcham. Thomas was sentenced to one months hard labour. Then again in the Reading Mercury[5, 6] and Berkshire Chronicle[7] of 1842 both Thomas and George are noted for trial for stealing iron back in May 1840 from William Cave, a farmer at Colthrop. The pair had disappeared after the event and thus had taken a while to apprehend them. The trial found the pair guilty, George was given 1 months hard labour and Thomas 3 months hard labour.
Again in 1844[8] Thomas was back, this time for drunkenness for which he was fined 5s.
Then we get to 1852. Firstly in September[9] Thomas was charged by John Chalk with assaulting and abusing him. Thomas failed to appear and was fined 16s and 2 months imprisonment. It would appear though that this imprisonment may not of took place as it is reported in October[10, 11] that "That old offender" sat for 6 hours in the stocks. It was recalled by some that it was raining on that day and that Mrs Barfield took pity and sheltered him with an umbrella.
Unfortunately even the stocks failed to work and in 1862 he was found guilty of causing riotous behaviour in the parish church for which he was thrown out of[12, 13]. For this he was sentenced to 1 months imprisonment for this offence. Some that recall the events have referred to Thomas as "Berkshire Blake".
Others in the Stocks
In 1851 James Moore and Thomas Turner were both placed in the stocks [14]. Their punishment had been delayed to a new set of stocks having to be made. They were given the punishment for drunkenness and a breach of the peace.
Last use of the stocks
I believe Thomas "Berkshire" Blake was one of if not the last person to be placed in the stocks in Thatcham. The stocks were last used, as far as I can identify, in England in 1872 in Newbury when Mark Tuck[15], a rag and bone man, was placed in the stocks on 11th June 1872 after being found guilty of disorderly conduct.
Summary
As you can see I still have a lot of research to do, but essentially we know in Thatcham there was a village lockup, stocks, cucking stool and whipping post. I will continue to research these.
References
W. Money & T. Rawlinson, 'Transcripts from the Parish Registers of Thatcham: Made by Thomas Rawlinson', Newbury, 1881
Barfield, S. Thatcham, Berks, and its Manors, Oxford: Parker, 1901
T. H. Brown, 'Notes on The History of Thatcham', Thatcham: Pinnock Bros. Printers and Publishers, 1914
Reading Mercury, Saturday 21 April 1838
Reading Mercury, Saturday 23 July 1842
Reading Mercury, Saturday 22 October 1842
Berkshire Chronicle, Saturday 22 October 1842
Reading Mercury, Saturday 14 September 1844
Reading Mercury, Saturday 11 September 1852
Berkshire Chronicle, Saturday 02 October 1852
Reading Mercury, Saturday 02 October 1852
Berkshire Chronicle, Saturday 19 July 1862,
Reading Mercury, Saturday 19 July 1862
Reading Mercury, Saturday 08 February 1851
N. Young, 'Newbury 365', Thatcham: Young, 2015